We know that everyone is different. People learn in different ways. Some people prefer to learn face-to-face, and some people like to learn in their own time.
That's why we developed Wayout TV, Way2Learn, and WAYS – three new TV channels to help prisoners access training and education in their cell, in their own time.
These platforms are helping to transform prisoner's lives, assisting in their rehabilitation and education to increase life chances, employability options and therefore decrease re-offending rates.

Wayout TV
Wayout TV is our in-cell TV IAG channel packed with the best educational content. We produce and curate the very best content to complement and extend our learning, training, and employment programmes.
The channel also allows prison Governors and management teams to instantly communicate with their prisoners directly in their cells.
Our TV series cover subjects such as:
English and Maths
Business Enterprise
Employability
Hairdressing
Design
DIY Skills
In addition, regular faith-based programming, exercise workouts, local advice and employment opportunities are also streamed daily.
Why Wayout TV?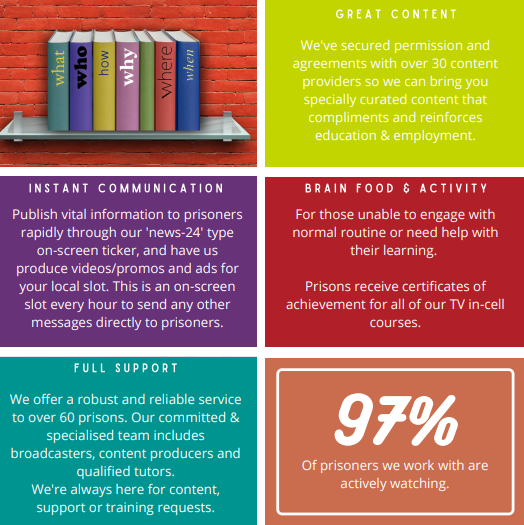 Checkout our video about WayOut TV
See more of our work here
Way2Learn
Way2Learn is our in-cell study programme with courses ranging from creative design to food hygiene.
This ground-breaking way of accessing education within a prison allows those who do not feel comfortable in a traditional learning environment to practice self-directed study, at a pace that suits their style of learning.
Results show that when someone engages in our innovative educational programmes, they are more likely to then carry on their learning in a workshop or classroom environment. By encouraging learners to participate in self-directed study early, we can improve the long-term outcomes of the prisoners in our care.
With numerous courses on offer, we use a variety of video learning techniques to engage prisoners and enable them to widen their knowledge.
WAYS
Wayout's Audio and Youth Streaming Service (WAYS) allows prisoners to experience urban radio, podcasts, audio books, specialist talks and spoken tutorials discreetly through out audio+ in-cell streaming channel.
Email the team at: [email protected]

See examples of our channels here